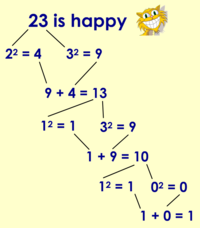 A happy number is defined by the following process:
Starting with any positive integer, replace the number by the sum of the squares of its digits in base-ten, and repeat the process until the number either equals 1 (where it will stay), or it loops endlessly in a cycle that does not include 1. Those numbers for which this process ends in 1 are happy numbers, while those that do not end in 1 are unhappy numbers (or sad numbers).
[1]
For example: 19 is happy because:
4 is sad because, following the process above, the pattern is:
After introducing this to the class some questions you may ask could be:
What other numbers are happy? Sad?
Are there any certain numbers that are easy to determine if they are happy/sad? How do you know?
Would there be an infinite or finite number of happy numbers?
True or false: If a number is happy (sad), then all numbers of its sequence is happy (sad).
Further Extensions:
A happy prime is a number that is both happy and prime. Determine any happy prime numbers. What would be common among all happy primes?
Change the base (from 10 to 2, or any number) are the numbers still happy/sad, or does it change how the "feeling" of the number?
Try cubing the digits instead of squaring. Are the numbers still happy/sad, or does the number change "feelings"?
Computer science challenge: Could you write a code or algorithm that determines if the number is happy or sad?